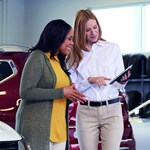 We at DCH Lexus of Santa Barbara are committed to ensuring our customers in Santa Barbara have a pleasant experience when shopping for used cars. One of the best things that a person looking for a new, used vehicle can do is to plan ahead and determine what he or she is looking to get out of a used car.
Set a budget when going shopping for a pre-owned vehicle. This should help you narrow your choices down and help you avoid breaking the bank. Another thing you should plan ahead for is the features you need or want. If you have a large family, then make sure the vehicle can accommodate your entire family on a road trip.
Besides budget and features, you should also consider the condition of the car. Is an older model acceptable to you, or do you want something newer? This should help you in selecting an appropriate car. Finally, don't forget to ask questions about the car to the salesman. It is even more important to know the details of a used vehicle.