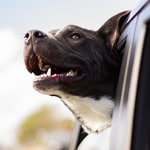 Many pets enjoy taking a ride in your vehicle periodically. With the fresh air coming in through the windows and the sun shining, this can be a very enjoyable experience for both of you. Reality sets in when you pull back into your driveway and notice all the pet hair that has made a mess of your interior. Fear not, DCH Lexus of Santa Barbara has some car detailing tips that should help.
You can purchase handheld vacuums that plug right into your vehicle. This allows you to clean up a pet hair mess no matter where you may be located.
A lint roller or pet hair brush can clean up small messes or help you clean your clothing.
Place a blanket on your seat so your pet can sit on that. This will protect your seats from pet hair, and you can throw the blanket in the wash.